Home page > Product & Price list > Business Essentials > Ticket & Voucher > Book/Pad Voucher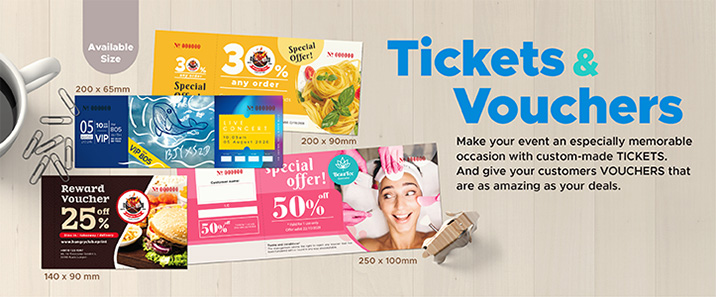 1 book/Pad x 10pcs

1 book/Pad x 25pcs

1 book/Pad x 50pcs
Qty
1 Numbering + 1 Perforation Line
100gsm Simili
128gsm ArtPaper
4c+0c
4c+4c
4c+0c
4c+4c
S$
S$
S$
S$
10
111.3
195.8
112.3
197
20
112.5
196.7
113.1
198.2
30
113.4
197.9
114.3
199.4
40
114.6
198.8
115.6
200.3
50
115.8
200
116.7
201.5
60
116.7
201.2
117.6
202.7
70
117.9
202.1
118.8
203.9
80
118.8
203.3
120
205.1
90
120
204.2
121.2
206.3
100
120.9
205.4
122.4
207.2
150
126.6
211.1
128.7
213.8
200
132.6
216.8
134.7
219.5
250
136.2
220.7
139.2
224
300
139.8
224.3
143.1
228.2
350
143.7
227.9
147.3
232.1
400
147.3
231.8
151.2
236.3
500
154.8
239
159.6
244.4
600
166.8
251.4
173.1
258.3
700
174.3
258.9
182.1
267.2
800
182.1
266.7
190.5
275.3
900
198.3
283.4
207.6
293.3
1000
206.1
291.2
216
302
Qty
1 Numbering + 1 Perforation Line
100gsm Simili
128gsm ArtPaper
260gsm ArtCard
4c+0c
4c+4c
4c+0c
4c+4c
4c+0c
4c+4c
S$
S$
S$
S$
S$
S$
10
111.9
196.1
112.5
197.6
138.3
226.4
20
113.1
197.6
114.3
199.1
141
228.8
30
114.6
199.1
115.8
200.6
144
232.1
40
116.1
200.3
117.3
202.4
146.4
234.5
50
117.9
202.4
119.4
204.5
149.7
238.1
60
119.4
203.6
121.5
206.6
152.7
241.1
70
120.9
205.1
123
208.1
155.4
243.8
80
122.7
206.9
124.8
209.6
158.4
246.5
90
124.5
208.7
127.2
212
168.6
256.4
100
126
210.2
128.7
213.8
171
259.1
150
134.1
218.3
138.3
223.1
194
282.2
200
142.5
226.7
147
232.1
216.2
304.3
250
148.8
233.3
155.1
240.2
243.2
331.3
300
155.1
239.6
163.2
248.3
263.9
352
350
169.7
254.9
178.7
264.5
292.4
381.1
400
176.3
261.8
186.5
272.3
312.4
401.8
500
209.3
306.5
221.3
319
379.6
480.3
600
226.5
323.6
241.8
339.8
424.6
526
700
258
366.2
275.6
384.5
491.2
603
800
271.2
379.4
290.6
399.4
531.6
643.5
900
301.7
420.4
323.9
442.9
597
719.3
1000
331.4
459.4
355.4
484
654
785.6
Qty
1 Numbering + 1 Perforation Line
100gsm Simili
128gsm ArtPaper
4c+0c
4c+4c
4c+0c
4c+4c
S$
S$
S$
S$
10
112.5
196.7
113.4
198.2
20
114.3
198.8
115.8
200.6
30
116.7
201.2
118.8
203.9
40
119.4
203.6
121.5
206.3
50
121.8
206
124.5
209.6
60
124.2
208.7
127.5
212.3
70
126.6
211.1
130.2
215.3
80
129.3
213.5
133.2
218
90
131.7
215.9
136.5
221.3
100
134.1
218.6
138.9
223.7
150
147
231.2
155.1
239.9
200
168.3
253.4
178.1
264.2
250
199.1
296.3
210.8
308.5
300
209.3
306.5
224.6
322.3
350
238.7
346.9
256.4
365.2
400
249.8
358
269.3
378.1
500
305.8
433.9
329.8
458.4
600
347.6
484
377
513.7
700
383.6
527.1
418
562.5
800
418.9
569.1
457.6
608.7
900
469.6
635.7
513.4
679.7
1000
505.9
679.7
554.1
728.6
1 book/Pad x 10pcs

1 book/Pad x 25pcs

1 book/Pad x 50pcs
Qty
2 Numbering + 1 Perforation Line
100gsm Simili
128gsm ArtPaper
4c+0c
4c+4c
4c+0c
4c+4c
S$
S$
S$
S$
10
111
195.5
111.6
196.4
20
112.2
196.4
112.8
197.6
30
113.4
197.3
114
198.8
40
114.3
198.5
114.9
200
50
115.2
199.4
116.1
200.9
60
116.4
200.6
117.3
202.1
70
117.3
201.5
118.5
203.3
80
118.5
202.7
119.4
204.2
90
119.7
203.6
120.6
205.4
100
120.6
204.8
121.8
206.6
150
126.3
210.5
128.1
212.9
200
132
215.9
133.8
218.3
250
135.3
219.8
138
222.8
300
139.2
223.1
141.9
226.7
350
142.5
226.7
145.8
230.6
400
146.1
230.3
149.7
234.5
500
153.3
237.5
157.5
242.3
600
165.3
249.6
171
255.9
700
172.5
256.8
179.7
264.6
800
180
264.3
187.5
272.3
900
195.9
280.7
204.6
290
1000
203.4
288.5
212.7
298.1
Qty
2 Numbering + 1 Perforation Line
100gsm Simili
128gsm ArtPaper
260gsm ArtCard
4c+0c
4c+4c
4c+0c
4c+4c
4c+0c
4c+4c
S$
S$
S$
S$
S$
S$
10
111.6
195.5
112.2
197
137.1
224.3
20
112.8
197
113.7
198.5
139.5
226.7
30
114.3
198.5
115.2
200
142.2
229.7
40
115.5
199.7
116.7
201.5
144.6
232.1
50
117.6
201.5
118.8
203.6
147.9
235.4
60
118.8
203
120.9
205.4
150.9
238.1
70
120.3
204.2
122.4
206.9
153
240.2
80
122.1
206
123.9
208.4
155.7
242.9
90
123.6
208.1
126.3
211.1
165.6
253.1
100
125.1
209.3
127.8
212.6
167.6
255.5
150
132.9
217.1
136.8
221.6
189.5
277.1
200
141
225.2
145.2
230
210.5
297.8
250
147
231.2
153
237.8
236.3
323.5
300
153.3
237.2
160.8
245.3
256.1
343.3
350
167.3
252.5
175.7
261.5
283.1
371.2
400
173.6
258.8
182.9
268.7
302.2
390.7
500
206
303.1
217.1
314.5
366.7
466.5
600
223.7
319.7
237
334.4
409.6
509.8
700
258.9
361.7
269.6
378.5
473.2
584.7
800
293.9
374.3
300.9
392.6
511.6
622.8
900
329
414.4
336.9
435.4
574.5
695.9
1000
364.2
453.1
373
475.6
628.8
760.1
Qty
2 Numbering + 1 Perforation Line
100gsm Simili
128gsm ArtPaper
4c+0c
4c+4c
4c+0c
4c+4c
S$
S$
S$
S$
10
111.9
196.1
112.8
197.6
20
114
198.2
115.2
200
30
116.4
200.6
118.2
203
40
118.8
202.7
120.6
205.1
50
120.9
205.1
123.6
208.4
60
123.3
207.5
126.3
211.1
70
125.7
209.9
129
213.5
80
128.1
212.3
131.7
216.5
90
130.5
214.7
134.7
219.5
100
132.6
216.8
137.1
221.6
150
144.9
229.1
152.4
237.2
200
165.6
250.7
174.8
260.3
250
195.8
292.7
206.6
304.1
300
205.4
302.5
219.8
317.2
350
234.2
342.4
250.4
359.2
400
259
352.9
266.1
371.2
500
321.9
427.6
330.7
450
600
389.7
476.2
400.3
503.8
700
452.7
518.5
465
550.8
800
515.8
559.2
529.8
595.5
900
578.8
624.3
594.5
665
1000
641.8
667.1
659.3
712.1
1 book/Pad x 10pcs

1 book/Pad x 25pcs

1 book/Pad x 50pcs
Qty
2 Numbering + 1 Perforation Line
100gsm Simili
128gsm ArtPaper
4c+0c
4c+4c
4c+0c
4c+4c
S$
S$
S$
S$
10
107.4
191.3
107.7
192.2
20
113.4
192.2
114.3
193.4
30
114.6
193.4
115.5
194.6
40
115.5
200.6
116.7
202.7
50
116.7
201.8
118.2
203.9
60
117.9
203
119.4
205.1
70
119.1
204.2
120.6
206.6
80
120.3
205.4
121.8
207.5
90
121.5
206.6
123
209
100
122.4
207.5
124.2
210.2
150
129.3
214.4
131.4
217.4
200
135
220.1
138
224
250
139.5
224.6
143.1
229.1
300
143.7
228.8
147.9
233.6
350
147.9
233
153
238.7
400
151.8
236.9
157.5
243.2
500
160.5
245.6
167.1
253.1
600
173.7
258.9
182.4
268.5
700
182.7
267.8
192.3
278
800
191.4
276.5
202.2
288.2
900
208.2
294.2
220.2
306.8
1000
216.9
302.9
230.1
317
Qty
2 Numbering + 1 Perforation Line
100gsm Simili
128gsm ArtPaper
260gsm ArtCard
4c+0c
4c+4c
4c+0c
4c+4c
4c+0c
4c+4c
S$
S$
S$
S$
S$
S$
10
112.8
191.6
113.7
192.8
140.4
220.4
20
114.3
199.4
115.5
201.5
143.7
233.3
30
115.8
200.9
117.6
203.3
147
236.9
40
117.6
202.7
119.4
205.1
150.6
240.2
50
119.7
204.8
122.1
208.1
154.8
244.4
60
121.8
206.9
124.2
209.9
158.1
248
70
123.3
208.4
126.3
212.3
161.7
251.6
80
125.1
210.2
128.1
214.1
164.9
254.9
90
127.5
212.6
131.1
216.8
176
265.7
100
129.3
214.4
132.9
218.9
179.3
269.3
150
138.6
223.7
143.7
229.4
204.8
294.8
200
148.2
233.3
154.8
240.5
230.3
320.2
250
155.7
240.8
164.9
250.7
261.5
351.4
300
164.1
248.9
174
259.7
284.6
374.5
350
179.9
266
191.6
278.3
316.6
407.2
400
187.4
273.2
200.6
287.3
339.4
430.3
500
222.5
320.2
239.3
338.2
413.5
516
600
243
341
262.5
361.1
465.1
567.9
700
277.1
386.3
300.2
410.2
537.3
651
800
313.7
401.8
323
428.2
584.1
698
900
351.2
445
361.7
475.6
655.8
779.9
1000
388.7
486.4
400.4
519.7
719.6
853
Qty
2 Numbering + 1 Perforation Line
100gsm Simili
128gsm ArtPaper
4c+0c
4c+4c
4c+0c
4c+4c
S$
S$
S$
S$
10
113.4
198.5
114.9
200.6
20
115.8
200.9
117.6
203.6
30
119.4
204.5
121.5
207.5
40
121.8
206.9
124.8
210.8
50
125.1
210.2
128.7
214.7
60
127.8
212.9
132
218
70
130.8
215.9
135.9
221.9
80
133.8
218.9
139.2
225.2
90
137.1
222.2
143.1
229.1
100
139.8
224.9
146.4
232.4
150
155.7
240.8
165.6
251.6
200
179
265.1
192.2
279.2
250
212
310
229.1
327.7
300
225.8
323.5
245.3
343.9
350
257.9
366.7
281
390.7
400
278.8
380.5
297.1
406.9
500
346.4
461.1
364.6
494.1
600
419
516.7
433
555.9
700
486.8
565.5
503.1
611.1
800
554.5
612.3
573.2
664.4
900
622.3
683.3
643.3
742.1
1000
690
732.5
713.4
797.5
1 book/Pad x 10pcs

1 book/Pad x 25pcs

1 book/Pad x 50pcs
Qty
2 Numbering + 1 Perforation Line
100gsm Simili
128gsm ArtPaper
4c+0c
4c+4c
4c+0c
4c+4c
S$
S$
S$
S$
10
108.3
192.8
108.9
194.3
20
109.5
194.3
110.4
195.8
30
111
195.5
112.2
197.3
40
112.5
197
113.7
198.8
50
113.7
198.5
115.2
200.6
60
115.2
199.7
116.7
202.1
70
116.4
201.2
118.8
203.9
80
117.9
202.4
120.3
205.7
90
119.7
204.2
121.8
207.2
100
121.2
205.7
123.3
208.7
150
128.7
213.2
132.3
217.7
200
135.9
220.7
140.4
225.8
250
141.6
226.4
147.3
232.7
300
147
231.5
153.3
238.7
350
152.7
237.2
160.5
245.6
400
158.4
242.9
166.8
252.2
500
175.4
260.9
185.9
272.3
600
191.7
277.1
204.3
290.6
700
220.5
317.9
235.8
333.5
800
231.6
329
249
347
900
260.1
368.6
278.9
388.1
1000
270.8
379.4
292.1
401.3
Qty
2 Numbering + 1 Perforation Line
100gsm Simili
128gsm ArtPaper
260gsm ArtCard
4c+0c
4c+4c
4c+0c
4c+4c
4c+0c
4c+4c
S$
S$
S$
S$
S$
S$
10
109.2
193.7
110.1
195.5
137.1
225.5
20
111.3
195.8
112.8
198.2
142.2
230.9
30
113.4
198.2
115.8
201.2
147.6
236.3
40
116.1
200.6
118.5
203.6
152.7
241.1
50
118.8
203.3
121.8
207.2
158.7
247.4
60
121.5
206
125.1
210.2
163.8
252.2
70
123.6
208.1
128.1
213.2
169.2
257.9
80
126
210.8
130.5
215.9
174.5
263.3
90
129.3
213.8
134.1
219.5
187.1
275.9
100
131.4
215.9
137.1
222.5
192.2
281
150
144
228.8
152.1
237.5
227
315.7
200
163.2
248.6
173.6
260
267.8
357.4
250
191.9
289.4
205.1
303.1
325
426.4
300
203
300.4
219.2
317.2
357.4
458.7
350
230.6
339.1
248.6
357.7
406.6
518.7
400
241.4
349.6
262.7
371.8
439.2
551.7
500
294.5
422.8
320.2
449.4
541.2
673.7
600
334.1
470.8
365.3
502.9
624.6
765.2
700
368.9
513.1
405.1
549.9
708.8
856.9
800
401.8
552.6
443.8
595.2
785
939.6
900
449.8
615.9
496.3
663.3
882.4
1052.4
1000
484
657.9
535.5
710.3
959.4
1137.2
Qty
2 Numbering + 1 Perforation Line
100gsm Simili
128gsm ArtPaper
4c+0c
4c+4c
4c+0c
4c+4c
S$
S$
S$
S$
10
110.4
195.2
111.9
197.3
20
114.6
199.1
116.7
202.1
30
118.8
203.3
122.4
207.8
40
122.7
207.5
127.2
212.6
50
127.2
212
132.9
218.3
60
131.4
215.9
137.7
223.1
70
135.6
220.4
143.4
228.8
80
140.1
224.6
148.8
233.9
90
150.9
236.3
160.8
246.8
100
154.8
240.2
165.6
251.6
150
194.9
292.1
210.8
308.8
200
233
341.5
254.3
363.4
250
284
412.3
310
438.9
300
316.9
453.3
348.1
485.4
350
349.6
493.5
385.9
530.7
400
380.5
531.3
422.5
573.8
500
458.4
632.6
510.3
684.8
600
527.4
717.2
589.8
780.5
700
602.7
815.8
675.2
889.3
800
666
895
748.7
978.3
900
739.4
991.8
832.9
1085.9
1000
801.7
1069.7
904.9
1173.5
Finishing Option
2 Numbering + 1 Perforation Line
1 Numbering without Perforation Line
(Loose Sheet only)
Numbering format
Sequential numbers that start at any number
you require (4 digits min. 6 digits max.)
Number in red colour.
Can Keep your own copy of
portion ticket/voucher as proof
for references in future.
Side gluing allows the
ticket/voucher easy to tear-off
and give away.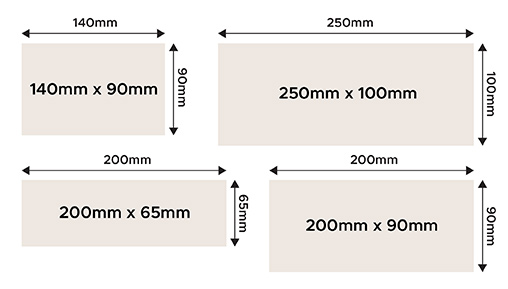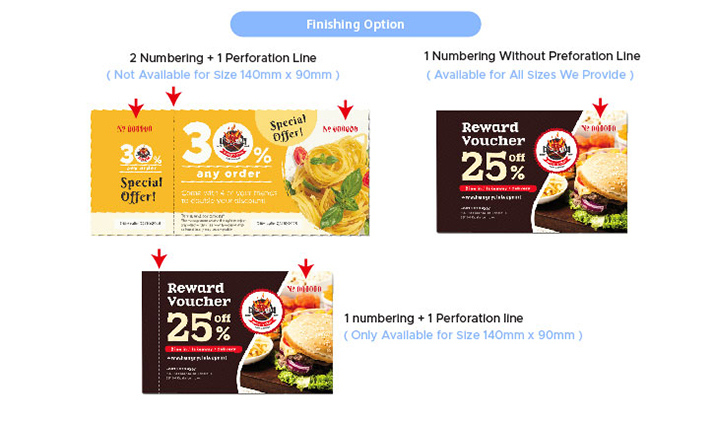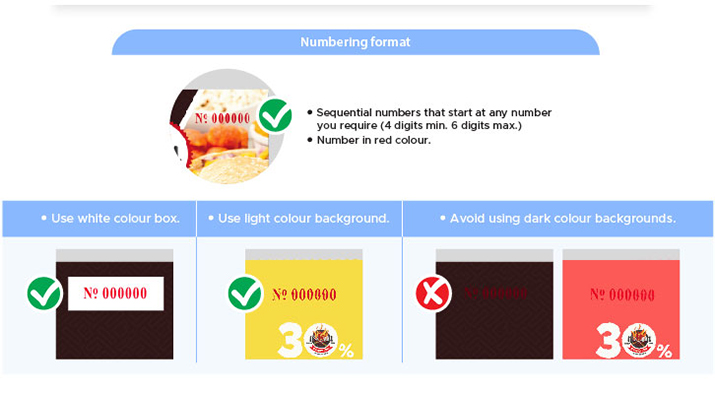 Hunting line +65 6797 0828 WhatsApp +6012 925 6409

Refer www.e-print.sg for the updated price. In case there is any price confilict between the printed catalog and
the website version shall prevail.